Mitcham's golden 112.10-point final dive stuns China
2008-08-23 14:55:43 GMT 2008-08-23 22:55:43 (Beijing Time) BOCOG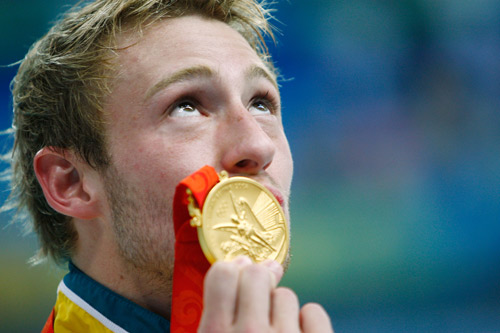 Matthew Mitcham celebrates his gold medal.
  (BEIJING, August 23) -- China's quest for a sweep of Diving gold ended in shocking fashion, as Matthew Mitcham of Australia performed a spectacular 112.10-point final dive that overcame a 32.50-point gap and rocketed him into first place in the Men's 10m Platform. Zhou Luxin, the leader in the round through five dives, earned just 74.80 on his final dive to fall short of gold by 4.80 points.
  China was hoping to earn the first Olympic Diving gold medal sweep in more than fifty years and a victory in the Men's 10m Platform would have given the host nation its 50th gold medal of the Beijing Olympic Games.
  But on a rare off night for China's divers, an ascendant Mitcham, ranked No. 3 in the world, was brilliant. A 97.35-point second dive put him in contention for gold and the perfectly executed final dive, which had a degree of difficulty of 3.8, gave the 20-year-old diver the perfect ending to his Olympic debut.
  Gleb Galperin of Russia, the reigning world champion in the event, scored 102.60 on his final dive, and 525.80 points overall, to earn his second bronze medal of the Beijing Olympics. He and partner Dmitriy Dobroskok finished in third place in the Synchronized Platform event.
  Zhou's teammate Huo Liang was the leader after the morning's semifinal leader but in the final was unable to find his form. He was in third place after his first dive but scored only one 90-plus point dive in the round and finished in fourth place. Zhou won gold in the Synchronized event with his partner Lin Yue earlier in the Games.
  Men's 10m Platform, final standings
  1. Australia -- Matthew Mitcham, 537.95 points
  2. China -- Zhou Luxin, 533.15
  3. Russia -- Gleb Galperin, 525.80
  4. China -- Huo Liang, 508.40
  5. Cuba -- Jose Antonio Guerra Oliva, 507.15
  6. Australia -- Mathew Helm, 467.70
  7. Great Britain -- Thomas Daley, 463.55
  8. Mexico -- Rommel Pacheco, 460.20
  9. Germany -- Patrick Hausding, 448.30
  10. United States -- David Boudia, 441.45
  11. Colombia -- Juan Guillermo Uran, 414.80
  12. United States -- Thomas Finchum, 412.65