Qingdao Olympic Sailing Center
2007-08-29 06:40:12 GMT 2007-08-29 14:40:12 (Beijing Time) BOCOG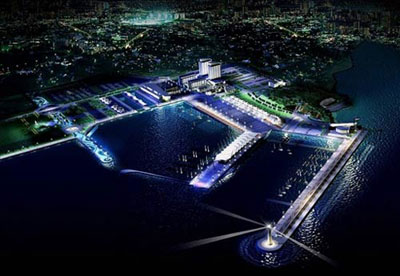 A bird's eye view of the Sailing Center at night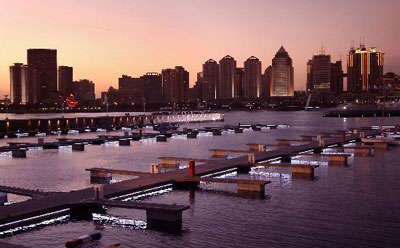 A beautiful scenery of the Sailing Center at night
  Location: City of Qingdao
  Competition: Sailing
  Category: New competition venue (under construction)
  Qingdao
  Qingdao is located on the southern coastline of the Shandong Peninsula, in east China's Shandong Province. Dubbed "Eastern Switzerland", Qingdao is one of China's most important port cities. With an area of 10,654 km2, it has a population of 7.31 million by the end of 2004.
  A unique blend of sea and mountains and a pleasant climate make Qingdao extraordinary. It has an average temperature of 12.2 degrees Celsius and a total length of coastline (including that of its 69 offshore islands) of 862.64 kilometers, of which 730 kilometers are continental.
  Qingdao is an important manufacturing center, an ice-free seaport and one of the most important textile industrial centers in China. It is also famed as a transit pivot for Eurasia and the Pacific region.
  Qingdao International Sailing Center
  The Qingdao International Sailing Center for the Games of the 29th Olympiad is located on the old site of the Beihai shipyard by Qingdao's Fushan Bay in China's Shangdong Province. The Center will cover a total area of 45 hectares (450,000 sq.m.), two thirds of which will be utilised for the competitions.
  The whole project is comprised of the Land Area, and the Harbor and the Off-shore Section. The projects on land will provide the administration and competition management center, the athletes' center, the press center, the logistic and functional center, and other affiliated facilities as well. The Harbor and Off-Shore parts will focus on the engineering of the major and secondary breakwater, an embankment, a quay featuring the Olympic Memorial Wall, and the renovation of the shore wall.
  The quay, the secondary breakwater, and the embankment will enclose an area of 15.5 hectares (155,000 sq.m.) while the major breakwater, together with the embankment, will occupy 7.5 hectares (75,000 sq.m.). Additional overlay and facilities will also be placed for temporary use of the Games. A removable surveying shed and a pontoon, for instance, will be set up separately on the embankment and the western quay to facilitate observations and transportation.