USA wins women's soccer title at Beijing Olympics
2008-08-21 15:43:45 GMT 2008-08-21 23:43:45 (Beijing Time) Xinhua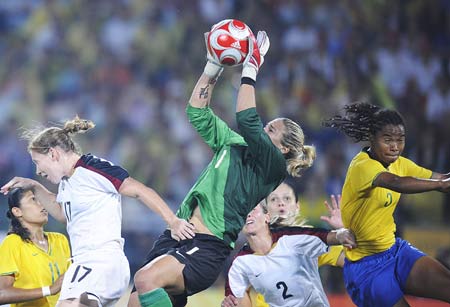 The U.S. goalkeeper Hope Solo grabs the ball during Women's Gold - Match 26 between the U.S. and Brazil of Beijing 2008 Olympic Games football event at Workers' Stadium in Beijing, China, Aug. 21, 200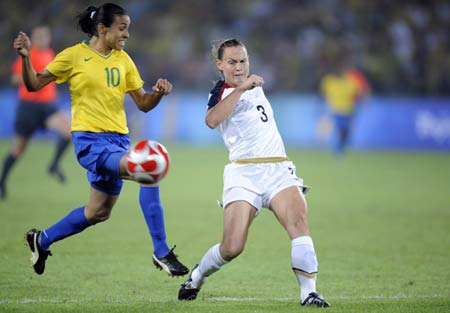 Marta (L) of Brazil vies for the ball during Women's Gold - Match 26 between the U.S. and Brazil of Beijing 2008 Olympic Games football event at Workers' Stadium in Beijing, China, Aug. 21, 2008. The
  BEIJING, Aug. 21 (Xinhua) -- The United States struggled to beat hottest favorite Brazil 1-0 in the extra time to claim the women's soccer title at the Beijing Olympics on Thursday.
  Brazil, the Olympic runners-up in Athens and World Cup runners-up in 2007, had to settle second again.
  World Cup champions Germany, who was crushed by Brazil in the Olympic semifinal, beat Japan 2-0 in the bronze medal match on Thursday.