U.S. duo Dalhausser/Rogers win beach volleyball gold
2008-08-22 06:20:26 GMT 2008-08-22 14:20:26 (Beijing Time) Xinhua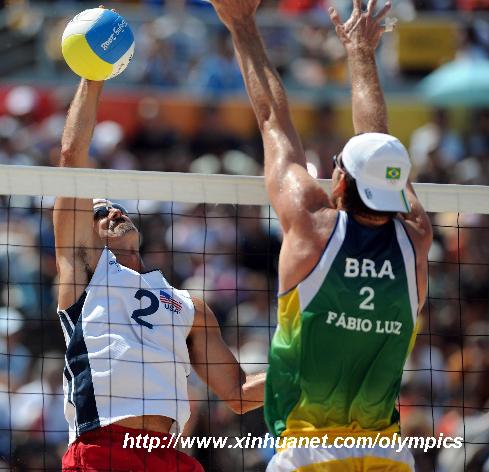 Todd Rogers (L) of the United States spikes the ball over Fabio Magalhaes of Brazil during the beach volleyball gold medal match at the Beijing Olympic Games in Beijing, China, Aug. 22, 2008. Philip D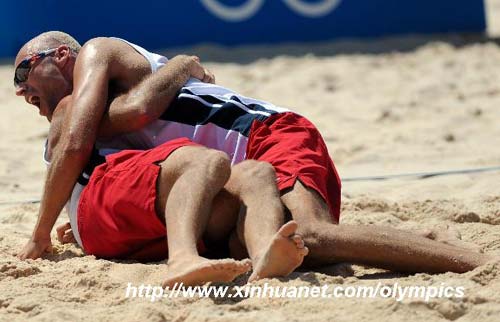 Philip Dalhausser and Todd Rogers of the United States celebrate after the beach volleyball gold medal match at the Beijing Olympic Games in Beijing, China, Aug. 22, 2008. (Xinhua/Gaesang Dawa)
(L-R)Silver medalists Fabio Magalhaes/Marcio Araujo of Brazil, gold medalists Philip Dalhausser/Todd Rogers of the United States and bronze medalists Ricardo Santos/Emanuel Rego of Brazil pose on the podium during awarding ceremony of men's beach volleyball at the Beijing Olympic Games in Beijing, China, Aug. 22, 2008. (Xinhua/Gaesang Dawa)
  BEIJING, Aug. 22 (Xinhua) -- Phil Dalhausser and Todd Rogers of the United States defeated Marcio Araujo and Fabio Luiz Magalhaes of Brazil in the men's beach volleyball final at the Beijing Olympics on Friday.
  The Americans won 2-1 with the three sets going 23-21, 17-21 and 15-4 in their favor. And the Brazilian duo claimed the silver medals.
  The Americans trailed 1-6 as the first set began but were able to catch up for a 10-all tie. The two teams then traded points to 19-19 before a spike by Rogers sent the U.S. team to set point and the Americans led to end the first set 23-21.
  In the second set, the two teams traded points to 15-15 before the Brazilian pair outscored and got the set point 20-16 and finishing the set 21-17.
  The efficiency of the 2.06-meter Dalhausser at the net left the Brazilians almost no resistance in the third set and increased the scores of the U.S. duo steadily set as the Americans claimed the decider 15-4.
  "It's the best feeling (to get the gold medal) , I can't believe it," said Dalhausser after the match.
  "We were prepared for a three-set match," he said on the setback of the second set.
  Dalhausser and Rogers, the 2007 world champions, have been widely considered to be gold favorites.
  Dalhausser was FIVB World Tour best blocker in 2006 and 2007 and best hitter in 2007 while his partner Rogers was best FIVB World Tour defensive player in 2006 and 2007. They were also placed first on the Olympic qualification ranking.
  In the bronze medal match earlier Friday, Brazil's Emanuel Rego and Ricardo Santos defeated Gerogian pair Renato Gomes and Jorge Terceiro in straight sets (21-15 and 21-10) to win the bronze medals.