Jongjohor wins first boxing gold of Beijing Olympics
2008-08-23 12:04:19 GMT 2008-08-23 20:04:19 (Beijing Time) BOCOG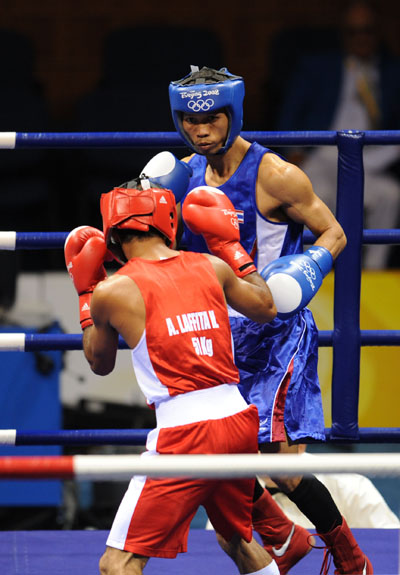 Somjit Jongjohor(blue) of Thailand competes during competition.
  (BEIJING, August 23) -- Thailand's Somjit Jongjohor won the gold medal in the Boxing competition's flyweight class after defeating Cuba's Andris Laffita Hernandez 8-2.
  The fight started conservatively, with Laffita Hernandez being the more aggressive boxer but struggling to keep his footing on a couple of occasions. Jongjohor seemed intent on throwing punches at the Cuban boxer's ribcage and scored a couple of points in the first round.
  In the second round, the experienced Thai boxer held back and waited for the Cuban to open up his defense. Jongjohor picked up four points in the second round, while Laffita Hernandez remained scoreless. One punch by Jongjohor connected solidly with Laffita Hernandez's head.
  The Cuban boxer scored his first point of the bout early in the third round, but Jongjohor picked up another two points by exploiting the frustrated Cuban boxer.
  Laffita Hernandez scored a second point in the fourth round, while Jongjohor was content to stay out of harm's way, knowing that he had secured the first gold medal of the Olympic boxing competition.