Doctor Tim Brabants has his dream come true
2008-08-22 08:48:54 GMT 2008-08-22 16:48:54 (Beijing Time) BOCOG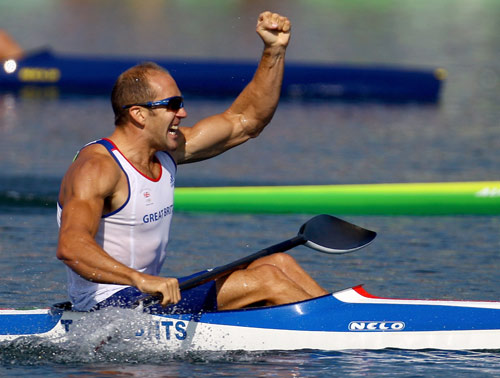 Tim Brabants celebrates his victory.
  (BEIJING, August 22) -- Great Britain's Tim Brabants fulfilled his Olympic gold medal dream by topping the Canoe\Kayak Flatwater Kayak Single (K1) 1000-meter final on August 22.
  The 31-year-old took a bronze medal in Sydney eight years ago, but only ranked fifth in Athens. After his Athens disappointment, Brabants was in a half-retirement condition, completing his medical study at the University of Nottingham and working as a doctor. However, he decided to return to the water in 2006 and has been doing well since. In the 2008 ICF World Cup series, he took six medals, including a gold in Duisburg.
  In the final on Friday, Brabants took the lead at the very beginning and maintained it to the end. He won the gold medal with a time of 3:26.323.
  Defending champion, 32-year-old Eirik Veras Larsen of Norway placed second clocking 3:27.342. He took four medals in 2008 ICF World Cup series, two silver and two bronze.
  Twenty-five-year-old Kenneth Wallace of Australia took the bronze medal with a time of 3:27.485. He is a raising star in this category and is considered to be the best Australian kayaker after his compatriot Nathan Baggaley.
  Canada's Adam van Koeverden was a bit disappointing in the final, placing eighth. He managed a second place in the first 500 meters, but was overrun after 750 meters. The 26-year-old took six medals in the 2008 ICF World Cup series, including two from K1 1000m race. He will have to do his best in the K1 500m final on August 23 to prove his dominance in this competition.
  Athens silver medalist and world best time (3:24.495) holder Ben Fouhy of New Zealand finished fourth with a time of 3:29.193. Athens K2 1000m champion Markus Oscarsson placed sixth clocking 3:30.198. Oscarsson will compete in K2 1000m final later in the afternoon.