Zhang Yining wins fourth Table Tennis Gold
2008-08-22 14:31:16 GMT 2008-08-22 22:31:16 (Beijing Time) BOCOG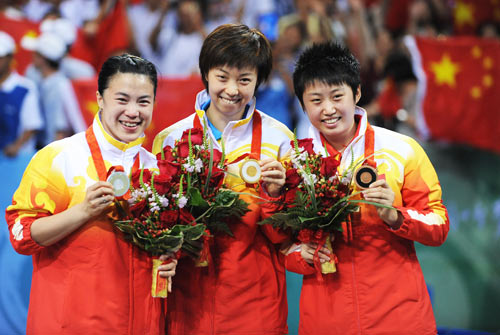 (L-R) Wang Nan Zhang Yining and Guo Yue pose with their gold
  (BEIJING, August 22) -- Defending Olympic champion Zhang Yining of China once again secured her title Friday night at the Peking Univeristy Gymnasium with a commanding 4-1 win over teammate Wang Nan. Zhang has participated in four Olympic events (two Singles and two Team) and won the gold medal on every occasion.
  Despite loosing to Zhang in the final, Wang Nan became the most successful Table Tennis player ever in Olympic history with four gold medals and one silver.
  Teammates and training partners on the Chinese national Table Tennis team, Zhang and Wang were very familiar with each other's style going into the match. For the world's top-ranked players, the duel came down to a battle of acumen over skill.
  But after a challenging contest, Zhang finally prevailed. Wang made several mistakes in the second and third game which provided Zhang a two point lead at 3-1. In the fifth crucial game, Zhang sealed the deal with an incredible 11-3 win over Wang.
  China claimed all three medals in the Women's Singles at Beijing 2008, with Guo Yue winning bronze after beating Singapore's Li Jiawei 4-2. It was China's second medal sweep in the Women's Singles event; their first was at the Seoul 1988 Olympic Games. Altogether China has won 11 out of a possible 12 gold medals in Women's Table Tennis.