Ma realizes his gold medal dream
2008-08-23 14:38:55 GMT 2008-08-23 22:38:55 (Beijing Time) Xinhua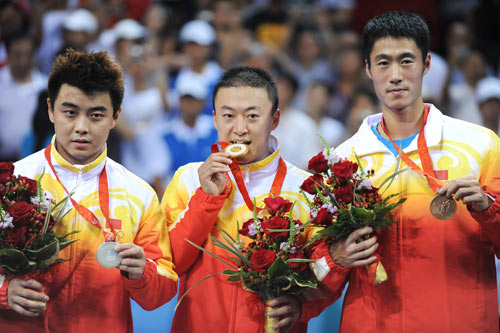 (L-R) Wang Hao, Ma Lin and Wang Liqin pose with their gold medals.
  (BEIJING, August 23) -- Table Tennis fans at the Peking University Gymnasium witnessed three Chinese flags raised again Saturday, when Chinese paddlers Wang Hao, Ma Lin and Wang Liqin occupied the three levels of the Men's Singles victory podium. China had a clean sweep of all four Table Tennis gold medals and all six medals in the Table Tennis Singles events.
  Ma Lin scored a hard-fought win over teammate Wang Hao 4-1 to finally add Olympic gold to his gold medal collection. Ma was fierce and aggressive from the start and enjoyed a 2-0 lead before Wang, who also won the Men's Singles silver medal in Athens, found his pace in the third game. But Ma would come back to win the next two games for the gold medal.
  Earlier in the afternoon, Jorgen Persson of Sweden and Wang Liqin in the bronze medal match gave the spectators a great show with a splendid match of many long rallies and slams. Sixth time Olympian Persson, 42, lost the medal but won the applause of the audience for his extraordinary performance and also for the true Olympic spirit he demonstrated during the match as he fought heroically after receiving medical treatment at the start of the fourth game due to pain in his left leg. Wang won the match 4-0.