Hot shooting gives Argentina the bronze
2008-08-24 07:52:02 GMT 2008-08-24 15:52:02 (Beijing Time) BOCOG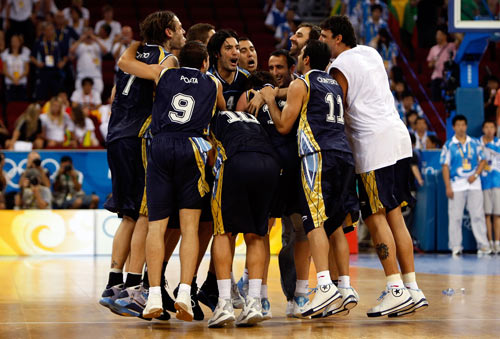 Argentinean players celebrate their victory. (Photo credit: Getty Images)
  (BEIJING, August 24) -- A Ginobili-less Argentinean team was still too much for Lithuania to handle in the Men's Basketball bronze medal match which Argentina won 87-75 on Sunday, August 24.
  Going into the tournament as the defending champion, Argentina started their group A journey with a 79-75 loss to Lithuania, who eventually won all of their five group matches. Argentina's form was questioned even before the Beijing Olympics due to their series of defeats in friendly matches. Their mainstay, Manu Ginobili, told the press on the day they arrived in Beijing that they were only 60 percent ready, but that they would be at 100 percent before the final.
  Argentina's performances justified Ginobili's remarks as the team played better and better as the group stage progressed. In addition, in the quarterfinals, Argentina managed to knock out World No. 6 Greece. However, when everything had just started to click into place for them, they lost Ginobili in the semifinal and suffered a 20-point loss against the United Sates. They had to face Lithuania again in the bronze medal match and many were in doubt that they could pull out a win.
  For World No. 5 Lithuania, this Olympics journey was perfect until the match against world champion Spain in the semifinal. If they had won the encounter, they would have made history, earning at least a silver medal to add to their trophy shelf, currently decorated with three Olympic bronze medals. The semifinal match was close to the very end. Although Lithuania only lost by a small margin, 91-86, it was still a heavy blow for them.
  In the first quarter in Sunday's match, Argentina's power forward Luis Scola destroyed Lithuania's interior defense, dropping 10 points and driving his team to finish the quarter 24-21. Lithuania only scored two of their seven 3-point shots, far below their tournament average.
  The second quarter was an Argentinean three-point show, with players scoring six times from downtown. Argentina led 46-34 at halftime, shooting 8/14 behind the arc, compared to Lithuania's 3/11.
  The situation went downhill for Lithuania in the third quarter due to their 4/17 performance in 3-point shooting. They also missed seven of their 20 free throws, which hindered their chances of catching up. At the end of this quarter, Argentina extended their lead to 68-49 by dishing out 17 team assists, almost three times more than Lithuania.
  Argentina was a bit complacent in the beginning of the fourth quarter and got their lead cut to 12 points after three minutes. They immediately called a timeout and managed to maintain this lead to the end. The final score was 87-75 in Argentina's favor.
  Argentinean guard Carlos Delfino was the top scorer of the match, dropping 20 points and grabbing 10 rebounds. Scola added 16 points and three other players scored in the double digits for Argentina. The South American team shot 48 percent behind the arc, almost two times better than Lithuania.
  Ramunas Siskauskas and Rimantas Kaukenas were two notable players on the Lithuanian squad, netting 15 points and 14 points, respectively.
  "We came here for a medal and we are really happy. This was important for us," said Scola after the match. "We are a team. Ginobili is a great player but we have a lot of great players."
  For Kaukenas, the loss was very difficult to bear. "It was a difficult game. Their team just wanted it more than we did and that's the result," he commented. "It was disturbing for me personally. We just didn't have it. It's very upsetting."